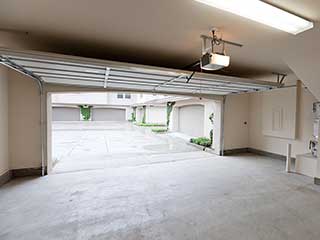 Your garage door is only as functional and safe as your opener is. At Garage Door Repair Fort Mill, a big part of our commitment to service excellence is bringing you the best of the best when it comes to serving all brands and models as well as offering a prompt and professional repair and replacement service. Here's what our services are all about.
First-Class Installation Services
Ready to have your new opener installed and send your old unit on its way? We're here to provide you with the most reliable, timely, and affordable installation and replacement services. One of our experts will be at your door in no time to ensure all the components that come with your motor are correctly sized and correctly installed along with the unit, from the smallest screw to the wall clicker, remote and sensors.
Top-Quality Products That Last
In addition to our world-class installation and replacement services, we will also help you select the make and model from our extensive inventory, one that will impress you with its power, durability, and perhaps most importantly - safety features. You'll be able to choose from a wide range of makes and models coming straight off the production line of some of the most reputable brands out there, including LiftMaster, Genie, Chamberlain and others.
Opener Accessories & Solutions
If it's been a while since you've given your garage door opener some attention, you'll be very surprised with how far the market has progressed. We can help you equip your existing opener with the latest upgrades out there, including anything from additional remotes to fancy features and custom parts. Give us a call to discuss your options and we'll work hard to meet your specific needs and fit within your budget.
We're your trusted source of opener products and repair services, including installations, replacements and maintenance. Give us a call today to find out more.
Other Related Advice
My garage door opens a little then stops. Why is that?
There is most likely a problem with your opener's UP limit. Open the garage door opener motor casing and adjust the UP limit by a small amount. Then try and open and close your door again. You may need to adjust it a little more or less depending on how well your door performs once you have completed this process, but that should fix the problem. If it doesn't, you may be dealing with anything from drive system damage to broken springs or frayed lift cables. Those things require experts to handle safely.
Garage door closes part way then opens again. Why does it do that?
Opening and closing partly means there could be an obstruction over the photo eyes or something blocking the tracks. With the sensors, the obstruction is most likely a buildup of dirt and grime so a simple cleaning is all that is needed. With the tracks, the solution is similar, as the debris will need to be cleared out. However, this problem could also be something else. The travel limits of your opener (up and down) may have changed for some reason and need adjustment. These are set so your door stops when the door is fully opened or closed and doesn't try to continue moving beyond those points. You can consult the owner manual to learn how to adjust the travel limits.
Count on us for:

Overhead Garage Doors

Broken Cable Replacement

Oil Tempered Torsion Springs

Genie Garage Door Openers