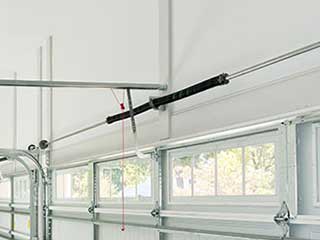 If you've noticed that your garage door is no longer moving easily like it used to, the problem likely lies with the springs! Learn more about their importance and how we can assist you below.
Trustworthy Spring Replacement & Adjustment
The springs of your garage door are one of the most important components of the system, which is why you'll probably notice if something's wrong with them. Springs are essentially the "muscle" and are used to be able to lift the door, and without them it wouldn't be going anywhere. If one of your springs has broken, it's going to have a much tougher time opening, and continuing to use it in this state will only worsen the issue. That's why we're here to lend you a hand! Our experts can take care of torsion and extension springs swiftly and get them replaced so your door will work without issue again. Adjustments may also be necessary over time, and we can tend to those as well.
DIY Isn't Worth The Risk
Garage door springs must be handled by an expert, which is why it's far too dangerous to attempt doing a replacement or adjustment yourself. Careful precision is required when dealing with springs thanks to them being connected to the weight of the door, as well as how taut they are to store energy. A mistake could mean your door falling down, or you getting seriously injured by a spring that snaps. It's best and safest to let us do it for you instead!
Emergency Services Are Available
If your garage door won't budge at all and you have places to be, just let us know when you call! We provide emergency services to anyone stuck in a bind and will come out immediately to help. Same day work is also available should it be pressing but not quite as urgent.
Call Our Team Today
Need any help with your springs or any other part of your door? Contact Garage Door Repair Fort Mill and let our professionals do everything needed to make sure your door is up and running perfectly by the end of the day!
A Few Informative Answers
How do I adjust garage door spring tension?
Before you attempt to adjust your garage door springs, make sure the door is fully closed and you have everything you need within reach. The end of each extension spring has a collar and this is where you can adjust their tension. However, the spring can become a dangerous projectile if you tighten it too much and it snaps off. The same goes for torsion units, which are supposed to be the "safer" of the two types. Still, while they are technically stronger, they too can break, and mishandling them is just as dangerous, potentially.
Can I replace a broken garage door spring myself?
You should never try and replace a broken garage door spring yourself. Springs are wound incredibly tightly and one false move can send them flying off or cause them to whip around. This can result in very serious bodily harm to anyone unfortunate enough to stand nearby when that happens. This is the type of repair work that is best left to the experts.
Want more? Let us take care of:

Garage Door Receiver Repair

Garage Door Weather Stripping

24 Hour Garage Door Service

Garage Door Track Maintenance