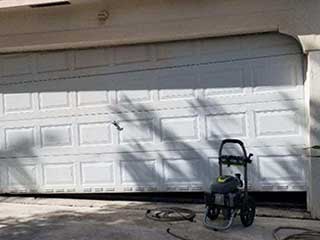 We want to be your number one priority when it comes to taking care of your garage door. We'll be there ASAP on emergencies and give you a wide selection of options when you're looking for a new door or opener. Our technicians have undergone rigorous training processes and possess the necessary expertise and tools to deal with whatever garage door repair you may be needing. Here's a snapshot of our services.
Garage Door Off Track
When your door becomes detached, there are several reasons behind the issue. And because of the inherent risks that come with handling such issues on your own, we advise you to hire one of our professionals right away to handle the problem. You can make sure no children, pets, or family members are around the door until it's been repaired. We'll assess your system and inspect it until we've identified the root of the issue. Then, we'll do everything in our power to bring your door back in action.
Bent & Missing Panels
A missing or damaged panel can not only make your entire garage door look bad, but it also impedes the functionality of your system. Our professionals will take care of the problem by sourcing the exact same panel you need and install it in place of the damage or missing panel on your door.
Installations, Replacements, & Beyond!
In need of a new garage door? We're here for you. A lot of service companies out there work with the same suppliers as we do, but we'll go the extra mile to help you select the right model for your home and budget. Not to mention we'll safely and professionally install your new door and, if needed, haul away the old unit. With us, all you need to do is sit back and relax, watching your home's curb appeal grow.
Look no further than our experts with these and many more garage door services. Also, feel free to give us a call if you have any other questions or need our assistance!
We also offer:

New Garage Door Installation

Residential Garage Door Repair

New Opener Remote Controls

Garage Door Safety Inspections